"You are out of business if you are not available on the search". This phrase is not an understatement in the digital sphere where every business is endeavouring efforts in increasing the website traffic. Many businesses focus on increasing website traffic strategies. It is their primary online strategy for their business. But, to be precise, website traffic without the high conversion leads won't help turn visitors into customers. Traffic will not at all help earn more revenue. Clearly, traffic isn't everything, it won't impel them to take any action towards buying. In order to earn revenue, you must know how to convert your website visitors into future customers and brand lovers. Your website must drive visitor into buying your product or service.
But! What is website lead?
A web lead is a visitor of your website that has filled out any web form provided by you on your website. The form can be simply providing some contact information, email address, or more complex adding additional questions.
A web lead has the potential to turn a website visitor into potential customers.
When the visitors first land on your website, you have about 10s to impress them. Think like a customer, why would they stay on your website?
This means, to grab their attention in 10s, it is necessary to create the first "wow" impression. The best way to do it to make visitors understand what you do, and how you can serve their problem.
A strong value proposition is an answer to this. "Why should I buy your product or service?" "Will it solve my concern?". A poor value proposition can turn off your visitors and they will switch to your competitors immediately.
A strong value proposition includes:
Attention-grabbing headline
Sub-headline with 2-3 sentence explaining what you offer
Eye-catch visuals
Few bullet points that will highlight your core offering to clients
The content should be precise, easy to understand
Jargon-free
Unique and different from competitors
So, how you will convert your website traffic into website leads? Here are a few tips to convert traffic into leads:
Landing Page:
Landing pages are one of the most effective ways to convert website traffic into leads. It is not always essential to show a website into a search result, having a landing page that can turn visitors into lead is the active way. Landing pages are designed with a purpose to provide precise information about your brand product or service. Landing pages give you the best platform to directly support your business goals like reaching a new niche market, encouraging customers to fill the form or other details, getting new customers, and increasing ROI and sales and collect information from the visitors, which can later be responded via email or call.
It is an effective way to present your message to your visitor. Putting several landing pages for a website increases the chance of more people coming to a website and more chances of converting traffic into leads.
Notification Bars or announcement bars: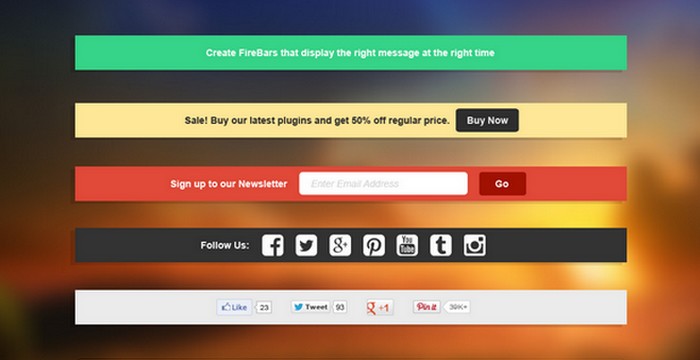 Notifications bars are sometimes also known as announcement bars displayed at the top of a website. Typically, these bars are of full-width banner flaunted with messages asking users to allow a website to show notifications or warning messages to show install plugin or blocked pop-up, and so on. Such bars stay on the top of a website.
Also, announcement bars can be used to display a great promotional offer or a link of a form or landing page. The best thing about these bars is that they stick at the top even when the user scrolls the website and this fascinates users.
Contact number on website's home page:
Adding a contact number on a website elevate the trust of customers and visitors. It gives them a ray of relief that they can contact you from your product and services or in another way they have an ability or chance to get connect with you. Adding contact information on the top of a website will make your visitors job easy. They can easily find out contact information and get connected with you. Convenience is always the key to impress visitors and customers.
High-quality content
Content is the new kingpin of the digital market. Without the wealthy content, your website visitors will not stick around your website enough to learn more about your brand and its offering, even if you are selling the product or service at a competitive price. They will also lack behind in filling the form or any information if they do not find informative quality information. The content must be unique, engaging, easy to understand, and different from your competitors.
Writing copy content on your website will breach their trust. The most important thing to write quality content is writing what your customers are looking for. Avoiding too much jargon is a good practice of writing high-quality content. If your website fails to write high- quality content that you will not be able to leverage any of the lead's generation techniques. Also, your content needs to be updated frequently; it should be refreshed with the latest information.
Provide relevant calls-to-action
CTA or call-to-action acts as a key element in marketing strategies for any business website. CTAs can be added to any website/blog or any other content that you're already producing in order to make every effort effective and later converting it into leads.
You must remember that the desired powerful call-to-action will drive the visitors towards taking the actions of mentioning their contact or any other information like email.
Include video on the homepage
Do you know only 10% of the people remember what they hear, and 20% of the people remember what they read? But, 80% of people remember what they see and what they do. Adding visual communication can play the role of a king in converting leads. Videos enhance the visual communication between your brand and your visitors. You'll be able to narrate your brand's message more creatively and customers can easily understand what you want to say.
It is the most important tool that you can keep on your website's homepage to keep your visitors stay on your website and learn more about your brand, and eventually filling the information.
Let your video speak about your brand.
Opt-in forms
Opt-in forms are beneficial for your website as it assists in enhancing the conversion rate. Opt-in forms can be embedded into a home page, sidebars, or bottom of the website. Also, a video can be added behind the forms; this will keep your visitors engaging. If visitors like your product or service, they will provide seek ways to stay in contact with you. These forms will help you collect information about such visitors and stay connected with them through a different medium. Mostly, it is email. Users mostly do not know what they are supposed to do after reading the post, in such cases opt-in form can be very lucrative.
Now it's your turn!
So, know you know what are the significant ways to convert web traffic into web leads. Though there are different techniques of converting web traffic into the leads, the purpose remains the same. These are a few most practised leads conversion techniques. Now it's not the time to only focus on increasing web traffic; it is time to convert web traffic into web leads. It will help you convert visitors into future esteem customers. Attract visitors by providing them with relevant information about your brand, product, and service.
If you are wondering how to proceed and need expert advice for converting your web traffic into web leads, get in touch with AdDraw Tech. With the most effective technique, we will ensure to deliver bespoke result for your brand.